POWERLIFTING USA SHOP
RON FERNANDO'S "THE SHIELD OF GOLIATH"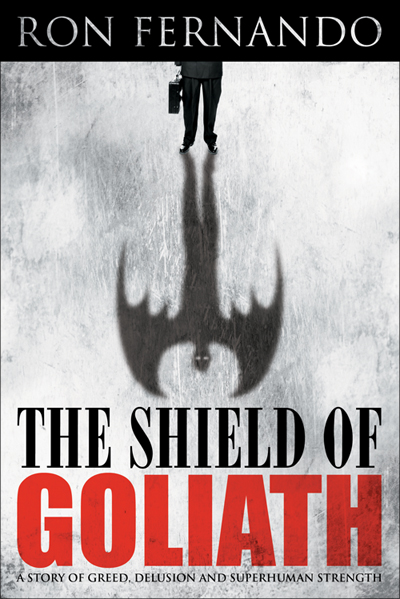 - A STORY OF GREED, DELUSION AND SUPERHUMAN STRENGTH -
It is the year 2024. America is led by its first woman President--an ex-Marine Corps powerlifter--who inherits not only a teetering economy, but quite possibly the biggest drug problem in the history of mankind. Making matters worse are the whispers of a new, super addictive drug called White Angel, about to be imported from Central Asia in massive quantities to North America. When the Angel touches down, it will truly be hell on earth. The President enlists the aid of a rookie DEA agent to go undercover in the Ukraine and try and break the drug ring by infiltrating a professional powerlifting team owned by the purported kingpin--the Kiev Black Thunder. Follow the exploits of some of the future's strongest athletes as they compete in the Professional Powerlifting League and final, enigmatic contest in the Caribbean for the mysterious shield of Goliath to prove once and for all who is recorded history's strongest man.
(ISBN 978-0-615-43518-3)
"A novel in the tradition of John Grisham...a futuristic thriller laced with suspense and a serious glimpse of the underground world of powerlifting." - Bev Francis, six-time World Powerlifting Champion and Professional World Bodybuilding Champion, NPC and IFBB judge and promoter
"...a superb craftsman of character development, Ron Fernando interweaves sub-cultures and super-criminals in a dizzying tale that rushes to a cohesive climax..." - Mike Lambert, Powerlifting USA magazine

$19.95 + $4 S/H in the USA ($15 INTERNATIONAL S/H)

*NOTE: All profits from the sale of Ron Fernando's The Shield of Goliath go directly to Ron's family. Powerlifting USA has listed The Shield of Goliath in their online shop as a courtesy to Ron's wife, Rosie Fernando, who helped make Ron's book a reality after his unexpected passing in December of 2010. For questions or comments regarding orders of The Shield of Goliath, please contact Rosie Fernando at 1.630.709.2026.
DIGITAL ISSUES