CURRENT ISSUE
May 2012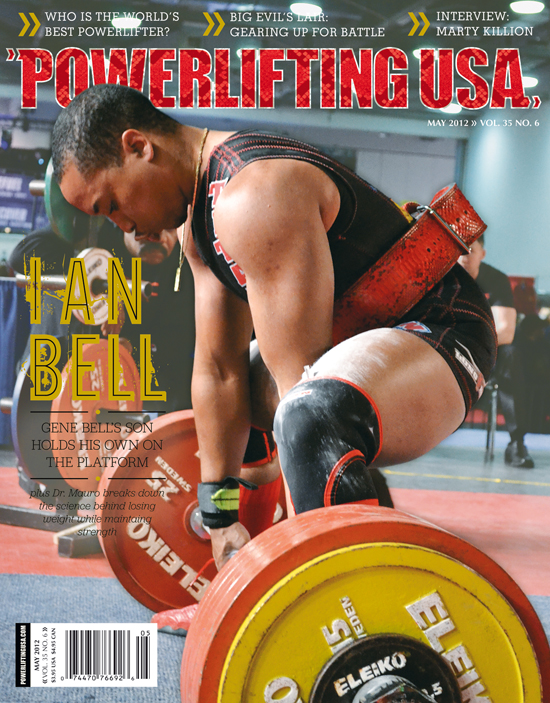 ON THE COVER...
Ian Bell breaks the 800 barrier with an 810-pound pull at the GNC Deadlift Contest at the Arnold Sports Festival (photo courtesy Savine Al-Zobaidi)
FEATURES...
Ian Bell - Tom Eiseman interviews Ian Bell, an incredible lifter who, even at his young age, has already pulled over 800 while weighing under 200 pounds!
Hardcore Gym #117: Mana Barbell - Rick Brewer heads to Hawaii to get the details on this island gym with serious squat power
The Amateur World Strongman Championships - Scott DePanfilis takes us to the Arnold Sports Festival, where competitors from all over the world tested their strength and fought for the strongman title
Burn Up to 10 lb. of Belly Fat Forever - Scott Mendelson of Infinity Fitness brings us more insight into proper nutrition for the competitive athlete
CONTENTS...
Startin' Out: Forced Reps - Doug Daniels
Profile: Naomi "Supergirl" Kutin - Ed Kutin
Opinion: Who's the World's Best Powerlifter? - Darrell Sterling

Westside Barbell: Raw Benching - Louie Simmons
Marty Killion Interview - Curt Dennis Jr.
Power Forum: Training/Competition - Bob Gaynor
Big Evil's Lair: Gearing Up for Battle - Jamie Harris
Power Research: Neurocore - Team MuscleTech
Book Review: Powerlifting - Dan Austin & Bryan Mann
Judd's Corner: Things I Learned Along the Way... Pt. VI - Judd Biasiotto
Ask the Doctor - Dr. Mauro Di Pasquale
All Time Top 50: Men 132 Bench - Michael Soong
All Time Top 50: Women 132 Bench - Michael Soong
Coming Events
Top 100 List: 198 Class
Power Photo of the Month - Allan Engresso
RECENT ISSUES
| | | | | |
| --- | --- | --- | --- | --- |
| APRIL 12 | MARCH 12 | JAN/FEB 12 | DECEMBER 11 | NOVEMBER 11 |
| | | | | |
| OCTOBER 11 | SEPTEMBER 11 | AUGUST 11 | JULY 11 | JUNE 11 |