HARDCORE GYM #116

April 2012 - Vol. 35 No. 5
TWIN CITY BARBELL CLUB
by Rick Brewer | rick[at]houseofpain.com
www.houseofpain.com

Last month we discussed the many uses of soybeans, from topical ointment to aphrodisiac. We also found out that soybeans might be the secret weapon of lifters at The Gym in Norbonne, MO. The entire soybean subject was bizarre (and vaguely vegan) to most of us meat-eating weightlifters, but my main concern is that not one person emailed me any photos of "Soybean Queens." Come on, dudes, there's a Soybean Festival parade and everything! Send me some pictures of soybean eating babes—I know they are out there!

Okay, moving on. I promised we would head back north this month; so we'll tango with not one, but two of our favorite northern states: PA and NJ. As usual, it all started with an email:
Hey, Rick, how's it going? I am a fan of your HC gym column in PL USA and I thought maybe you'd be interested in my club, the Twin City Powerlifting Club, based in the cities of Easton, PA, and Phillipsburg, NJ (across the Delaware from each other). The club is pretty small, but it has been around since the 1920s and has produced some world-class lifters over the years. I sent a scan from a '40s strength and health magazine I have, that has an ad for the club (already well established, you'll notice).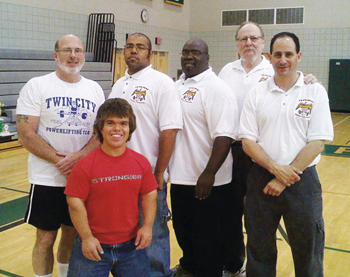 Mike Kuhns (132-pound lifter) has been at the top spot in the PL USA "Top 100" rankings many times, and is a multi-world and national record holder, and he trains here with his dad, Don, who is a very good masters lifter himself. Our coach, Dr. Nick Theodorou has many records in the ADAU and USAPL at 60 years young, 165-pound body weight and still pulling well over 500 pounds regularly. He also coaches the local Special Olympics Power Team around here, and the team has done very well under his guidance. Craig Maurer was invited to compete in Greece this past year, and he kicked tail there. Young Brandon Mauro was recently in USAPL Bench Worlds (placed 4th), and also a full meet Worlds previously. He was a 181 pounder when he started, now 230ish. Great kid!

The Twin City Powerlifting Club helps out with USAPL and ADAU meets, and supplies judges, spotters and general help for local high school meets, Special Olympics meets, etc., so they give a lot back to the community. I am kind of the black sheep of the club, having my records in WNPF and IPA as opposed to ADAU and USAPL, but I plan on hitting USAPL meets in near future. I enjoy your style; I am a writer too (recently published "Forgotten Secrets of The Culver City Westside Barbell Club Revealed," available at Amazon). Anyway, keep up the good work, and I hope to hear from you.
Thanks, Dave Yarnell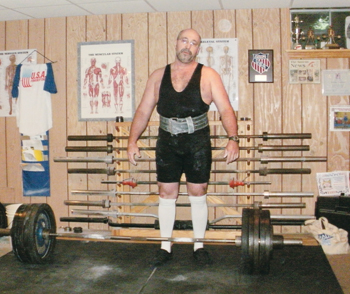 Dave, thanks for the info and friendly comments; it is always nice to hear from a reader. Also, hearty congrats on your published book!  Culver City Westside Barbell must have been quite a place; I noticed that Louie Simmons discussed it at length in the opening pages of his book, "The Westside Barbell Book of Methods." The photos you sent help establish the pedigree of the Twin City Powerlifting Club; any club that has been around since the '20s is bound to have some interesting history! 
Does your club have an owner or is it a loose affiliation of lifters?
There is no "owner" of the club, but Dr. Nick Theodorou owns the home that houses the gym.
Is the club affiliated with more than one gym?  The old text ad mentions an address in PA, but you say that your club is based in two cities that are on opposite Delaware River banks.
The primary training headquarters is in the basement of the coach, Dr. Nick Theodorou, in Easton, PA. While the original name is still used, the Phillipsburg connection has largely been lost. Most members live within a short distance of Easton. The Special Olympics team trains separately at a local high school gym, but occasionally some of these guys show up at Nick's, too. The location in the old ad is no longer around. (Dang, that would've been kewl. RB)
Please explain what gym (or gyms) are involved, as well as your definition of club.
The club meets every Wednesday night and Saturday morning for workouts at Nick's, but other workouts happen at members homes, occasionally Niko Hulslander's Garage Ink Gym (bit of a hike) or elsewhere. The club holds meetings monthly and has an annual Christmas banquet and a summer picnic. Inner-club dates and marriages are encouraged. (OK, maybe I added that last sentence. RB) Officers are voted on, we have a club budget, etc. Ages of members vary from teens to 60-plus, and someone is always training for an upcoming meet. We held a USAPL PA Bench Meet this past Spring and will be doing it again next year. Let me know any more details you would like on any aspect of the club.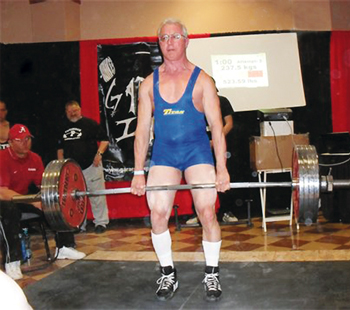 Thank you, Dave, and congrats on keeping that great lifting club together! Two different cities? What a cool history! Readers, please notice that they formed a powerlifting training group and stuck together, even though they didn't have the benefit of a single cool gym to work-out in. They have now trained together for years and years, even without the familiar hardware of one dark and cave-like gym. How many of you are using the shortcomings of the local gym as an excuse for your lack of powerlifting progress? I got a few more lifter updates from Dave:

One of our best lifters, Mike Kuhns, was just at the Arnold Classic and was actually the first World record setter in the raw division under the new IPF weight classes (he was in the new 130-pound class, which he made easily at 128 and ¾ after some sauna time). He squatted a pretty easy 485! He benched 314 (330 would have been a WR), and deadlifted a somewhat disappointing 351 first and missed two heavier tries for a 1,151-pound total. Mike is also headed for an international competition in Sweden again, in June, to set some more records. Mike has been featured in PL USA before, as has our coach Nick Theodorou.

We're still working with the local Special Olympic power team, and we currently have six or seven lifters there. Our club is currently seeking a new training facility as we are quickly growing out of Nick's basement. We are running a USAPL Bench and Deadlift meet in Lehighton, PA, on May 12, which is also a fundraiser for a great charity. (Hmmm, I didn't even know that the USAPL did Push/Pull meets. RB) We are also fielding a team at the PA States USAPL meet on March 31st and April 1st, in Scranton. We work closely with the ADAU, which is contemplating a merger with the 100% Raw organization. We will be working at and/or competing in some upcoming meets with them as well.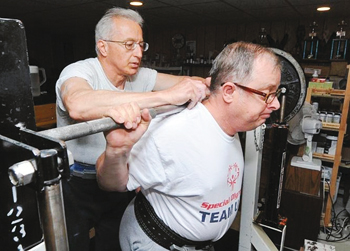 We changed our name to the Twin City Barbell Club, with the Twin City Powerlifting Team as a subset of the club (you can be in the club without being a competitive lifter). We have a Facebook group page, Twin City Barbell Club, not to be confused with our Minnesota Twin City lifting club friends. We are currently looking for new members interested in competing or just training or simply supporting the club in any way they see fit. Stop in at the FB page for details. One more thing: I will soon wrap up a book about our club's history (over 75 years), and it will include many other great lifters from PA—Bob Gaynor, Frank Zane, John Kuc, and Joe Meeko, to name a few. The books will be available soon and will be used as a fundraising tool for the club.
Dave never quits moving forward, like a powerlifter after his next PR! If you are anywhere near the Delaware River, you owe it to yourself to go train with the Twin City Barbell, and help them find a new home. Keep those bars chalked all over PA and NJ!

Note that Dave emailed me at my email address below, as I request every month. My email is clearly listed in every single article I write, but many of you still email Mike Lambert at Powerlifting USA. I wonder why? My guess is that most of you cannot read, but merely flip through the magazine looking at photos. The ignorance of our PL USA subscribers is clearly to my advantage, since I have limited writing skills—but still. You might hurt my tender feelings. Ha! Maybe next month we'll include a coloring page for the simpler "readers" (you know who you are)!

Next month, think western thoughts—farther west than CA. Email me, learn to read, and don't chew on the magazines: rick@houseofpain.com.
*photograph courtesy of Twin City Barbell Club